A Holiday Story: The Augustines, Miami Herald's Wish Book Nominee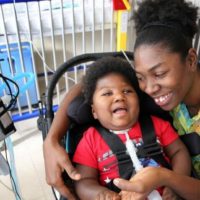 Samuel is one of the many children we work with. Against all odds he has outgrown his baby wheelchair and needs a new one. His mother's only wish: A new wheelchair.
Antoinise Samuels with her 17-month-old son Samuel at their North Miami studio apartment. Samuel was born prematurely with microcephaly. He remains on a respirator and is fed through a G-tube. Samuel has outgrown his infant wheelchair, so transporting him has become increasingly difficult. The family is asking for a toddler wheelchair so he can get the help that might make it possible for him to one day attend school.
To read the full article click here.