Wheelchair Repair Fund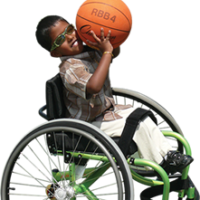 Call 305-596-1160 or e-mail info@advocacynetwork.org
MEET TOMMY AND STEFAN
TOMMY
The Advocacy Network on Disabilities located a donated wheelchair for Tommy. Two years later, it was badly in need of repairs. For safety reasons, the school transportation system would not allow Tommy on the bus until the wheelchair was repaired. The family struggles to make ends meet, yet earns just over the limit to qualify for public assistance. New trunk support pads with hardware and other repairs totaling $400 put Tommy back on the bus and back in school.
STEFAN
Stefan is 5 years old, has cerebral palsy, and lives with his mother and grandmother. Stefan's manual wheelchair was too heavy for them to lift into the car; as a result, he was spending almost all his time indoors at home. The lack of $200 to cover the insurance co-payment kept a specialized stroller out of reach for this family until his mom found The Advocacy Network on Disabilities. The family can now get out and about, and Mom reports that Stefan is enjoying zipping around in his CX14 Cruiser.
ABOUT THE FUND
Originally the Michael Grey Wheelchair Repair Fund, this fund was founded by Michael Grey as a service project when he was 12. An intergenerational poker tournament held each January, raises money to fund adaptations and repairs of wheelchairs and other mobility devices for children and youth whose families cannot otherwise afford them. Once Michael moved on to college, the Morrison, Heller, and Lehman families continue to carry on the tradition.  To date, nearly 50 children and young adults have been helped by the nearly $50,000 raised.

Jared Heller, Jay Morrison, and
Brian Morrison, 2013

Michael Grey, 2007