New Online Training Opportunities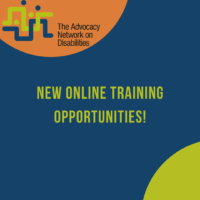 Due to COVID-19 concerns, until further notice, all face-to-face trainings are cancelled. The following listings are available online. Please register by logging into Trust Academy.
Inclusion Peer Support Groups
The Advocacy Network invites you to continue connecting. The Inclusion Peer Support groups were very successful. For your convenience, we scheduled a new series on a different day and time. Each one will be centered around a specific mini-theme. Check this space next week for dates and topics of the upcoming Inclusion Peer Support Group series. Attend any or all of these sessions.
Lessons Learned during COVID-19
Thursday, July 30, 2020, 3:30 PM – 4:40 PM
Key Inclusion Components
Tuesday, August 4, 2020, 10 AM – 11 AM
Structures for School Success
Tuesday, August 11, 2020, 10:00AM – 11:00 AM
Inclusion Open House
Tuesday, August 18, 2020, 10:00AM – 11:00 AM
Attend any or all of these sessions. The content depends entirely on the participants' interests. The Zoom Meeting Link is provided when you register through Collabornation. Be sure to copy and paste the Zoom Link when you register.