Training to Build Capacity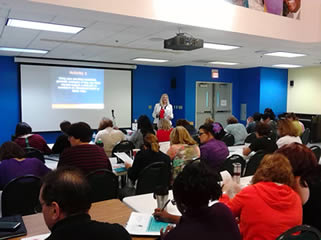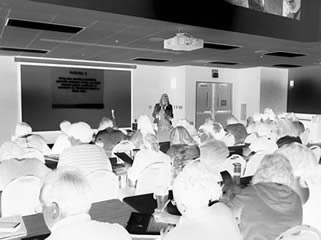 Experience has shown that inclusion is most successful when staff have acquired specific competencies, and organizations demonstrate a commitment to serving all children. Click here to review those competencies.
With staff competency critical to successful inclusive programs, a key component of ACT activities is staff training.
PARTICIPATION IN ANY OF THE TRAININGS BELOW FULFILLS THE CHILDREN'S TRUST'S INCLUSION TRAINING REQUIREMENTS.
We strongly recommend Discovering Inclusion as the first training for those with no previous experience working with children who have disabilities.
Registration is required to insure adequate space, and to notify you of any changes or cancellations. To register, click here. For more information, please contact Virginia Infante at 305-596-1160 x 260, or e-mail: vinfante@advocacynetwork.org
AN ADMINISTRATOR'S OVERVIEW OF THE AMERICANS WITH DISABILITIES ACT (ADA) is a training specifically designed for program administrators. It provides an introductory working knowledge of an agency's legal requirements under the ADA. Topics include eligibility for enrollment, reasonable accommodations, and policies and procedures. Opportunity is provided for participants to share experiences, raise questions, and problem-solve real life situations. (3 Hours)
COUNT ME IN: TEACHING CHILDREN TO EMBRACE DIVERSITY teaches staff, through the use of hands-on activities and simulations, how to build disability awareness and encourage children to appreciate differences. (3 Hours)
DISCOVERING INCLUSION is an introductory workshop appropriate for staff with little or no previous knowledge about children and youth with disabilities and inclusion. Content includes an introduction to various types of disabilities, identifying the benefits of inclusion for all, using People First Language and respectful etiquette, and the characteristics of an inclusive program. There is also an opportunity to explore personal beliefs and values. The Co-Trainer is a person with a disability who shares their personal experiences. (2 Hours)
Discovering Inclusion Level 2: Beyond Awareness 
Discovering Inclusion Level 2 is a problem solving based learning workshop focusing on the application of specific accommodation and adaptation strategies. Through individual case studies, participants will learn to successfully adapt activities and materials to include all learners. PLEASE NOTE: In order to attend this training, the participant must have successfully completed the prerequisite Discovering Inclusion training.
DISCOVERING INCLUSION: TRAIN THE TRAINER (By invitation only for those meeting the following prerequisites: Discovering Inclusion and a minimum of 2 additional ACT-provided or sponsored trainings.) This train the trainer session prepares community agency staff to present the Discovering Inclusion curriculum to others in their organization. The goal is to increase institutional capacity by developing in-house expertise at agencies throughout our community. (4 hours)
INTRODUCTION TO SUCCESSFUL INCLUSION OF CHILDREN WITH AUTISM SPECTRUM DISORDERS (ASD) Participants are introduced to the conditions comprising Autism Spectrum Disorders, and to practices strategies for providing supports. Topics include using visual support strategies to help children and youth meet behavioral expectations, recognizing and accommodating sensory sensitivities, fostering social competence, addressing bullying, and ensuring a safe environment. (3 Hours)
LET'S PLAY TOGETHER: PRACTICAL SOLUTIONS FOR ADAPTING RECREATIONAL ACTIVITIES provides participants a hands-on experience learning to adapt indoor and outdoor activities for children and youth with disabilities. Each participant is assigned a specific disability to simulate, and by working together with team members, is challenged to devise accommodations and adaptations that make it possible for everyone to participate. (3 hours)
NAVIGATING COMMUNITY RESOURCES provides participants with the tools necessary to direct families to thethe opportunity to gain knowledge about the most commonly needed resources for children and youth with disabilities, and the programs and systems in which they reside. The intent of this training is to increase knowledge about how to effectively navigate the system for accessing services for persons with disabilities. (2 hours)
STRUCTURE FOR SUCCESS provides participants with a toolbox of preventative strategies for working with teens with and without disabilities who are experiencing behavioral challenges. Incorporate the seven needs that teens exhibit (attention-seeking, avoiding failure, expressing anger, boredom, etc.) and methods of meeting their needs through positive, preventative approaches. (3 hours)
Impacting Lives:
Personal Stories From Our Families and Community Partners
Learn More